Battle for Normandy: 75th Anniversary Tour
September 6th – 13th, 2019
On June 6, 1944, the picturesque coast of Normandy became the scene of the largest and most complex military operation in world history. On that day alone over 130,000 Allied soldiers, supported by over 6,000 ships and 12,000 aircraft, attacked beaches whose names have become legendary; while 24,000 more troops entered the battle by glider and parachute.
Over the next eleven weeks, fierce combat raged across a once-bucolic Normandy landscape. By the end of the battle in August, the Allies had won a key success that would put them on the road to eventual victory over Nazi Germany.
Today, Normandy is again a peaceful and beautiful region, where the echoes of the past reach out to us at every turn. Come with us and visit the places where brave men fought for freedom, and where the history of the world was changed forever.
Click on a topic on the left to see more information about our Normandy Tour
Our Normandy tour is suitable for both the student of World War 2 history and the newcomer to the subject. Unlike some companies that spend only three or four days actually in Normandy, we devote all of our time to touring this picturesque, historically rich region.
What is included: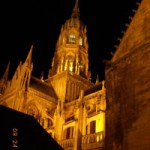 Seven days and nights in France.
Accommodations in one of Normandy's most popular hotels with breakfasts included.
Incoming and outgoing nights' accommodations at a highly rated Paris airport hotel.
Welcome and farewell dinners.
Deluxe motor coach for comfortable touring.
Admission to all scheduled museums and attractions.
Detailed study booklet with maps and educational materials.
An active itinerary of daily guided tours.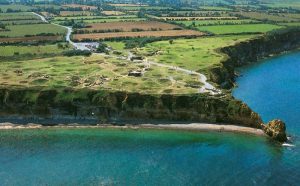 What is not included:
Air fare to and from Charles de Gaulle airport.
Some meals.
Incidentals, souvenirs, etc.
Tour Price: $2,750. per person (based on double occupancy)
Single Supplement: $520.
What our clients thought about our previous Normandy tours…


"Thanks for the trip of a lifetime. Your tour was outstanding and the traveling companions were good company."   
— Mike S., Pennsylvania
"I just want to thank you again for an outstanding trip! I could have went to these places by myself, but they would have been no where near as meaningful as you made them. I have nothing but good things to say about the trip." 
—  Joe C., Ohio
"I can't begin to thank you enough for the tour you provided in Normandy. My critique, don't change a thing. The size of the group was perfect. It enabled everyone to have their own space on the bus, which was very important on a week long journey. The Churchill Hotel was perfect, as was their wine and breakfast (in that order). Your research into this tour and the battle itself is obvious. We were constantly on the go and I wouldn't have had it any other way. I learned a lot and made new friends. I'll be looking forward to future tours."         
— Bob B., New Jersey
Thank you again for a great tour. It really was a great trip and one that we'll always remember . We expected to have a great tour with you, but the week far exceeded our expectations!  
— Terry A., Wisconsin
"I want to thank you for an absolutely memorable week. The tour was everything that I had hoped for and more! We went to places that I have read about all my life and never thought I would ever see. I felt that same way that I did when I was 8 years old and my parents first took me to Gettysburg. Knowing I was walking in the path that my father walked 68 years ago was a very, very moving thing for me to experience."    
— Bill T., New Jersey
"First things first…THANK YOU, THANK YOU, THANK YOU for arranging and leading such a fantastic trip back in time to a pivotal moment in World War II, American History, and World History. You did a simply amazing job and deserve far more credit than my command of the English language can muster. "  
— Tom H., New Jersey
We had a wonderful time on the tour. It was a terrific mix of great people, beautiful scenery, excellent accommodations, good planning, and, most importantly, a highly informative overview of the Normandy campaign. You did an outstanding job in introducing us to the battlefields and explaining their significance.  
— Bill S., Maryland