Prague and the Czech Republic
This tour is currently booked. Because cancellations sometimes happen, we would be happy to place you on a waiting list should spaces become open. Please email us here
April 21 – 27, 2018
Prague is a historical and architectural treasure, and one of the most beautiful cities in the world. Mercifully undamaged by the tumultuous events of the 20th century, it holds many attractions for today's visitor. We will examine several facets of the great city's past and present while wandering the winding old streets and stately squares.
Our itinerary also takes us beyond Prague, with visits to Austerlitz, Terezín (Theresienstadt), and Franz Ferdinand's castle.
Within Prague, just a few of the iconic places we will visit include Prague Castle and St. Vitus Cathedral, Charles Bridge, St. Nicholas Church, Old Town Square, and the Jewish Quarter.  For the military history enthusiast, our itinerary includes visits to the excellent Army Museum, the Church of Sts. Cyril and Methodius, where the Czechoslovak agents who killed SS-General Heydrich made their last stand (portrayed in the recent film Anthropoid), and sites from the 1945 Battle of Prague – the final battle of World War 2 in Europe – and meet its strange cast of combatant characters. We will also explore Prague's moving and tragic Cold War history.
During our excursions outside Prague, we travel to lovely Moravia to tour the largely unspoiled 1805 battlefield of Austerlitz, one of the most important battles in European history and the scene of Napoleon's masterpiece victory. On another day, we take in the emotive Theresienstadt concentration camp and Archduke Ferdinand's extraordinary castle at Konopiště.
Our Prague & Czech Republic tour will cover several layers of history and culture, in gorgeous urban and rural landscapes.
Click on a topic on the left to see more information about our Prague & Czech Republic Tour

What is included:
Thi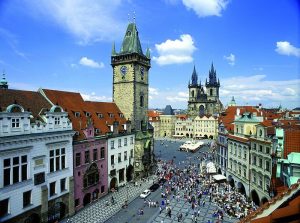 s tour includes:
Seven nights at a highly rated Prague hotel, with breakfasts.
Welcome and Farewell dinners.
Transportation by deluxe motor coach for trips beyond the city.
City transit pass.
Admission to all scheduled museums and attractions.
Detailed study booklet with maps and educational materials.
An active itinerary of daily guided tours.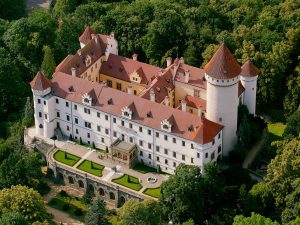 What is not included:
Air fare to and from Prague airport.
Some meals.
Incidentals, souvenirs, etc.
Tour Price: $2,670. per person (based on double occupancy)
Single Supplement: $475.